HORI 'Eevee & Friends' Nintendo Licensed Accessories for Nintendo Switch™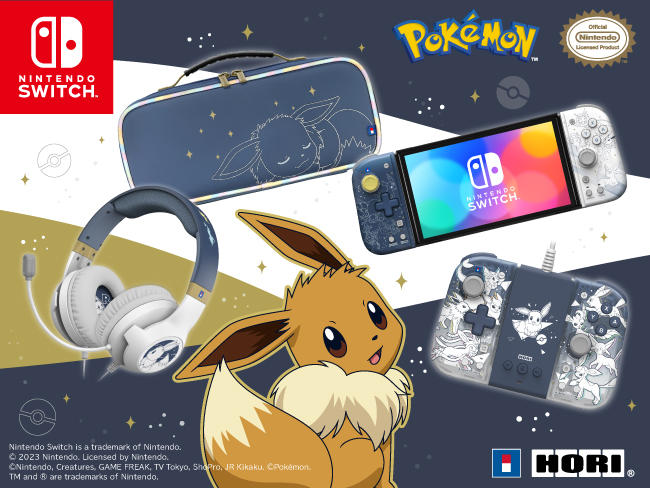 HORI introducing the Eevee Evolutions Nintendo Switch™ accessory lineup, inspired by Eevee's wishes for evolution!
Each product comes with its own unique concept – be sure to check them all out!
Customize your gaming style with a versatile range of products that are designed to be mixed and matched. It's recommended to combine and use them together!
For those who love playing on the go in Handheld Mode, the Split Pad Compact and Cargo Pouch Compact are the perfect items.
If you're all about that big screen action in TV Mode at home, consider the Split Pad Compact Attachment Set paired with a headset for an immersive experience.
Don't wait – find the perfect accessories that match your style, and let's have a blast gaming with Eevee and friends!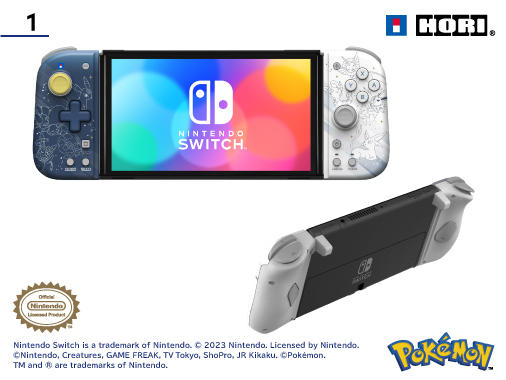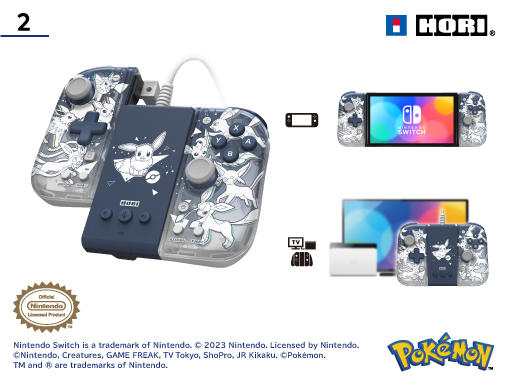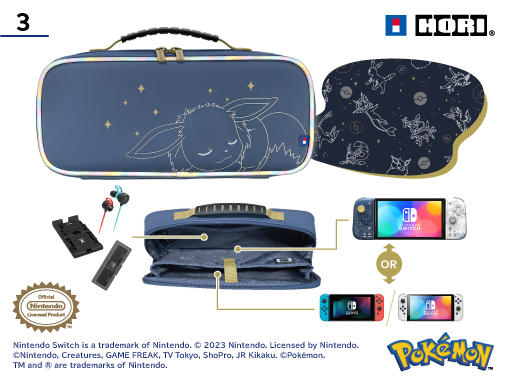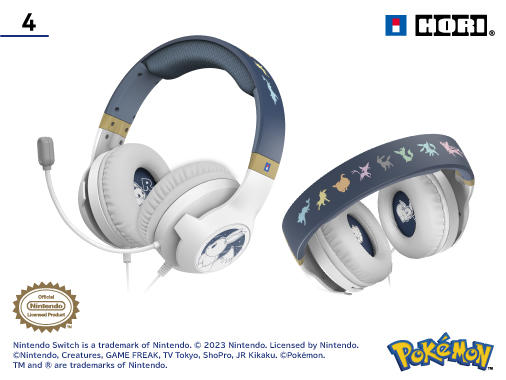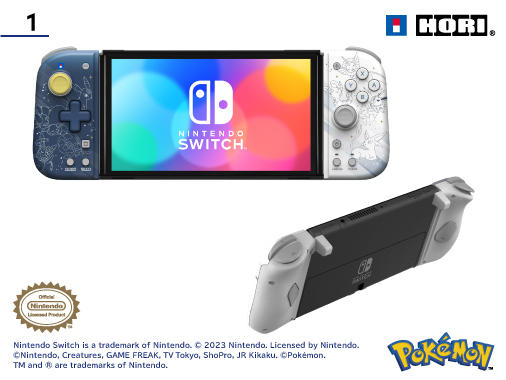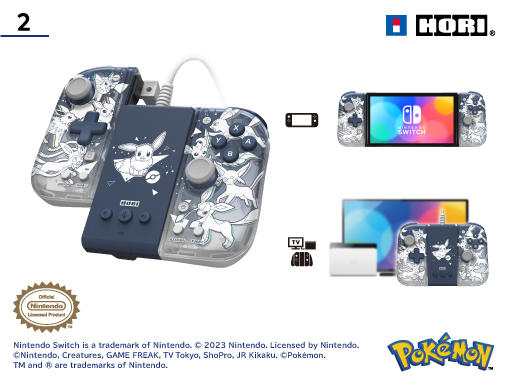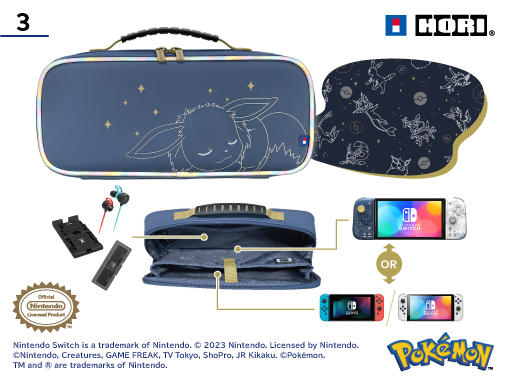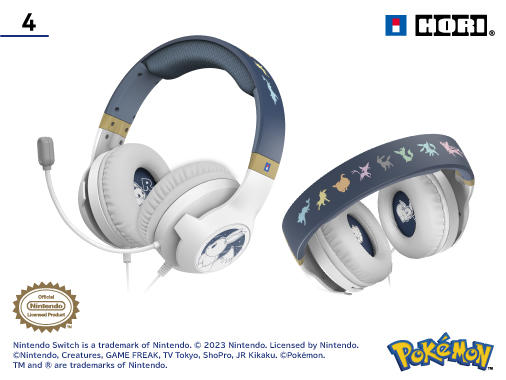 Release Date
2023/9/7
Product1
1★ Split Pad Compact for Nintendo Switch™ - "Day & Night"

・Enjoy the Nintendo Switch™ in Handheld Mode with this newest member of the HORI Split Pad family. The Split Pad Compact's ergonomic design fits your hands perfectly for increased comfort and control. Compatible with Nintendo Switch™ and Nintendo Switch™ – OLED Model.
・Advanced features include assignable rear triggers & Turbo functionality to enhance your gaming experience on many action titles and other genres.
・The sleek design of the grips are comfortable to hold even for long gaming sessions and include a unique surface texture for added grip.
・A Day and Night of Eevee and its evolutions themed bi-color design.
Product2
2★ Split Pad Compact Attachment Set for Nintendo Switch™ / PC - "Mysterious Starry Sky"

・ HORI introduces a new Nintendo Switch™ accessory set for both Handheld Mode and TV Mode gameplay – the Split Pad Compact Attachment Set! Ideal for those who love gaming in multiple modes!
・ Play in Handheld Mode when attaching the Split Pad Compact to the Nintendo Switch™, and by attaching the Split Pad Compact to the dedicated attachment, it's ready for TV Mode. You can enjoy the same gameplay experience in either mode.
・ The dedicated attachment features a headphone/microphone jack, allowing you to enjoy an immersive gaming experience with headsets or headphones even in TV Mode. ※ Not PC compatible.
・The left and right Split Pad Compact features a special design with clear material and gradient inspired by the starry sky.
Product3
3★Cargo Pouch Compact for Nintendo Switch™ - "Sleeping Under the Night Sky"

・Allows to store your Nintendo Switch™ or Nintendo Switch™ – OLED Model and all the small accessories you need.
・In addition, it also can be used to carry the Nintendo Switch™ with the HORI Split Pad Compact attached.
・Made with durable material on the outside and a quality inner padding material to protect your Nintendo Switch™ and accessories. Also built with a rubberized handle for a firm grip and easy transport.
・Featuring a simple design of Eevee peacefully asleep, with the piping on the edge that's using representative colors of its Evolutions is an embellishment! While inside, a grand gathering of Eevee's Evolutions awaits!
Product4
4★ HORI Gaming Headset Standard for Nintendo Switch™ - "Eevee's Wishes"

・Suitable for the pursuit of a gaming headset that does not burden the wearing feeling even if worn for a long time! Over-ear type headset, highly recommended for first-time gamers.
・The head cushion made from breathable mesh material provides support for extended gaming sessions, preventing discomfort from prolonged use.
・Flexible Microphone Arm , Volume adjustment and microphone ON/OFF switch are located on the back of the ear cups which are convenient and easy control.
・ Furthermore, using the included mixer, you can enjoy voice chat and game audio simultaneously on a smartphone app while playing games!
Equipped with over-ear earpads that provides high isolation and a secure fit for immersive gaming.
・With a calm color palette inspired by night, portraying a serene ambiance. Eevee is featured on both sides, and the headband showcases colorful silhouettes of it's Evolutions!
Precautions
1) Product1 「Split Pad Compact for Nintendo Switch™」:
・Make sure that your Nintendo Switch™ is updated to the latest system firmware.
・This product only works in Handheld mode and must be attached to the Nintendo Switch™ console to function. This product cannot be used in TV mode or Tabletop mode, or as a wireless controller.
・This product does not support the following features:
Gyroscope, Motion IR Camera, Accelerometer, Player LED, HD Rumble,
HOME Button Notification LED, NFC
・This product cannot be used with certain accessories made specifically for Joy-Con controllers (such as the Joy-Con Grip and Joy-Con Charging Grip)
due to this product's shape and size. Please do not forcibly install this product into any accessories as malfunction or damage may occur.


2) Product2 「Split Pad Compact Attachment Set for Nintendo Switch™ / PC」:
・Make sure that your Nintendo Switch™ is updated to the latest system firmware.
・This product works in Handheld mode Tv mode that must be attached to the Nintendo Switch™ console and the Nintendo Switch™ dock to function. This product cannot be used in Tabletop mode, or as a wireless controller.
・This product does not support the following features:
Gyroscope, Motion IR Camera, Accelerometer, Player LED, HD Rumble,
HOME Button Notification LED, NFC
・This product cannot be used with certain accessoires made specifically for Joy-Con controllers (such as the Joy-Con Grip and Joy-Con Charging Grip)
due to this product's shape and size. Please do not forcibly install this product into any accessories as malfunction or damage may occur.
・Headphone/microphone jack, Built-in microphone mute button and volume +/– buttons are not compatible for PC.


3) Product3 「Cargo Pouch Compact for Nintendo Switch™」:
・It cannot carry the Nintendo Switch™ console with the HORI Split Pad Pro attached.


4) Product4 「HORI Gaming Headset Standard for Nintendo Switch™」:
・If your device does not have a 3.5mm headset cable or jack, it may not work properly depending on the conversion cable you used. In that case, please contact the manufacturer of your conversion cable.

Manufacturer
株式会社 HORI