A Pikachu Robot: HelloPika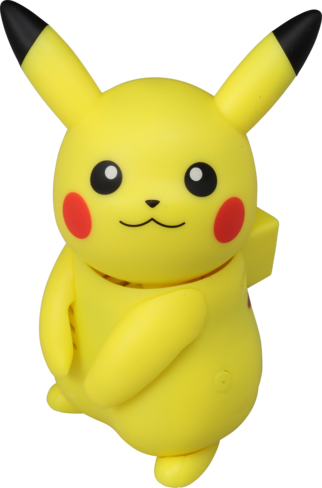 ◆Turns toward speech and replies in an irresistibly cute voice!  
When spoken to, HelloPika turns toward the sound and replies with "Pika-pika" or "Pika-pi!" It responds to speech randomly from a range of actions including replying, singing, attacking (Thunderbolt), nodding, shaking its head or laughing. Its cheeks also light up, and it laughs when you tickle its tummy. Kids will feel like they are playing with a real Pikachu, and will want to talk to it again and again to see which adorable reaction they will receive.

◆Easy for anyone to play with! Can be played with anywhere, at home or while out!  
HelloPika responds to sound, making it fun for kids and adults alike, no matter how old they are or what language they speak. At around 10cm tall, HelloPika fits in a pocket and is designed to stay in place with a clip-like mechanism. Users can simply clip it to a shirt pocket or the edge of a bag to take it out with them and enjoy playing wherever they go.